System components
Solid inkjet system components to maximize your industrial inkjet solution. DJM develops high quality and durable system components.
Your inkjet reliability personalived
You are looking to invest in a cost-effective inkjet solution to expand your business opportunities. It needs to be a reliable system to maximize line performance. System reliability is based on the way the final system is configured. To make sure your system operates at its best we don't economize on industrial inkjet system components. DJM invests time, effort and funds to develop the most dependable industrial inkjet technology in the market. All inkjet system components must be solid and developed to best fit inkjet system needs. Some examples of DJM developments:
Ink Delivery Systems
To maximize the effectiveness of the selected inkjet printing system, Ink Delivery System (IDS) are vital. Depending on type of ink, number of print modules and ink consumption, DJM develops the different ink supply systems, from bottle to bulk.
The right ink delivery system ensures maximized system uptime, optimal ink distribution and improves TCO.
Stand-alone web inkjet towers
For standalone web applications DJM developed a special web inkjet tower. The web inkjet tower is designed upon application –monochrome/full color and simplex/duplex – requirements. For optimum paper transport the towers are equipped with a web-guiding section and multiple web-tension modules. The inkjet towers can be connected to pre- & post processing equipment.
Support frames
The paper support frame is engineered for optimum paper transport, to minimize vibration and maximize printhead performance. DJM develops different types of support frames, depending on type of integration and production process.
Head-brackets
For optimal use DJM develops special head brackets for each print module. Head brackets are required to mount the print module into existing machines or transport systems. The head bracket supports the print module and enables correct positioning of the print module over the web. On request the head bracket can be equipped with motorized side movement.
Print module power supply
For maximum operation of the print module we designed a power supply module. This module is built in a 19-inch rack so it can easily be stored in a housing cabinet.
Logic controller
To optimize the line performance DJM developed a range of Logic Controllers. The basic Logic Controller (V1) offers functionality as synchro-start when running with multiple print modules, even with mixed technologies, ensuring an easy start of the print job and saves time during set-up. Also parameters as print delay can be entered and promotes setup times from job to job.  To maximize production flexibility, the Logic Controller V2 also can generate cue marks on portion sizes, compensate missing cue marks or generate virtual cue marks for white paper (mark-less) processes. Advanced functionality as splice detection control, in-time speed correction and in-time delay compensation is available with Logic Controller V3.
Industrial cable sets (connection kit)
For maximum trouble-free use DJM developed industrial cable sets. These specially made cables are equipped with all cabling necessary in the cable, like glass-fiber, power supply cables, data cables etc. This industrial cable is protected by a heavy-duty harness and industrial connectors, and ensures long-term employability.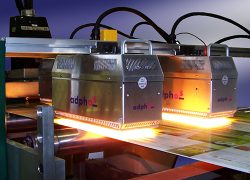 Dryers for water and UV-based inks
Depending substrate, ink type, ink laydown, resolution, printing speed and inline finishing requirements, additional drying can be required.
For this we offer a wide range of different dryers from infrared to UV. For UV we are using LED based curing devices for pinning and full cure. To establish this we partner up with global leading manufacturers of drying systems.
Interested in how our specially developed equipment maximizes the performance of your inkjet system?
We inform you about 'our tools' to optimize your production!