Contact details
Contact us to expand your print offer. Fill in the form for more information about industrial inkjet solutions that meet your printing requirements.
DJM BV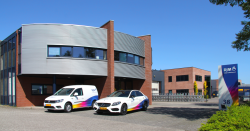 Visiting address
Nobelstraat 38
3846 CG HARDERWIJK
The Netherlands
Tel: +31 341 43 70 00
Email: info@djm.nl
Technical Support
support@djm.nl
Consumables & parts
purchase@djm.nl
Bank: NL87ABNA0875159184
VAT number: NL 823747736.B01
Chamber of Commerce: 08189241
IBAN code: NL87ABNA
BIC/SWIFT code: ABNANL2A
The terms and conditions of delivery as filed with the Chamber of Commerce in Apeldoorn under number 2219, dated November 16, 1999, apply to all our offers and agreements. You can also read our General Terms and Conditions here below.