Bulk Ink System - 4 Color BIS
For high ink coverage applications DJM developed a Bulk Ink System (BIS) for the HP (color) print modules. The BIS is an effective way to reduce printing costs; it monitors and controls ink supply to multiple color print modules. The mobile system is designed to increase uptime, boost print capacity and prevent ink contamination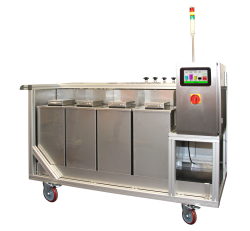 Full control over the ink
Buying ink in bulk is more affordable and keeps printing costs in check. A large ink capacity also increases your print productivity. The BIS holds an impressive 60 to 65 liter per color tank, enabling longer runs and assists in meeting production deadlines. It supplies ink to up to 10 print modules at the same time.
The BIS can be placed anywhere within 20 meters of the printing system, giving you great flexibility and efficient use of production space. Because the system is placed on wheels, it can be moved across the work space.
Communication and safety
For optimal print results it is important to monitor ink pressure to prevent printhead nozzles from clogging and avoid downtime for cleaning. The 4 color BIS has built-in sensors to measure ink level and pressure. The information is presented on a comprehensive touchscreen system interface. The system communicates with our controller software which generates clear status reports. Your operator will know exactly when pressure or ink level is low and it is time for a refill.
The CYMK tanks can be filled during production to reduce downtime. Each tank has a separate lid to prevent color contamination from ink spillage. An additional safety feature is the automatic system stop when ink pressure is too low, preventing air from entering the tubes. Furthermore, the system is fitted with a degasser to remove air from the tubes.
Manual control
The specially designed rotating knobs, one for each CMYK color, allow you to manually adjust each pump while sensors provide feedback on the measured values to the print management software; this gives you ultimate control over the pressure in the tube system.
DJM has designed the system for use with HP print modules and matching ink. However, the ink system can be adjusted for compatibility with other inks or print systems.
Bulk Ink System benefits
Cost-effective
Comprehensive interface
Manual control options
Clean refill while printing
Looking for the best fit to complement your digital print jobs?
Inkjet means digital freedom. DJM is sure to provide an inkjet solution to match both your companies and your client's needs.