Tailored solutions
Your digital vision personalived
Integrating inkjet into your existing workflow. Printing to required shape and size. Substrate issues such as proper ink adherence. Color management. No print job is the same. Looking for out-of-the-box inkjet solutions to meet your digital vision? Or tailor-made techniques because standard industry printers do not meet your requirements? Then look no further.
Partnership in creation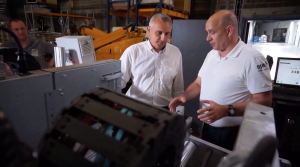 Inkjet development or integration questions, we listen to you every step of the way. Knowing what you want to achieve, your vision, sharing our knowledge: we inspire to combine professional forces to create the best results. DJM's unique combination of hardware and software hybrid solutions, creates endless possibilities in drop-on-demand inkjet. We make sure each drop is in place.
Our drafting technicians and software engineers contribute experience and technical expertise to the design process. Then we professionally put together the hardware, turning a complex puzzle into a simple solution with matching controlling software. Knowing what it takes to efficiently and correctly run databases for variable data printing, from one job to the next.
Go ahead and challenge us!
Be our partner to drive new inkjet technology
Through inspired inkjet printing technology DJM personalives secundary packaging, direct mailing campaigns, lottery & gaming, loyalty programs and many more. And our unique hybrid controller software platform makes it all easy to operate. Our well-respected Inkjet expertise helps printing companies grow. So let's talk, over the phone, or even better ...… in person!