Book printing
Producing books and having them ready at the right time, place, quality and at the right price can be quite a challenge.
And to be successful in today's book market, the total cost of the end-to-end supply chain is essential.
The 'make-ready' costs associated with traditional printing, the dropping of the average books per order and the increasing number of transactions per day are areas of concern for the book production market.
Select the right printing technology is crucial so that you can produce on demand and at the lowest possible cost.
Cost efficient
DJM has developed an innovative production inkjet solution with lower investment cost. We do not have any click and service charges, so the running cost are lower. This allows you to produce more cost efficient.
These solutions are based on the latest printhead technologies from Fujifilm and Kyocera. The high-definition printheads with a native resolution of 1.200 dpi ensure sharp text and quality images.
With print speeds of up to 250 m/min at 1.200 x 600 dpi, it is possible to produce cost-efficient even for larger volumes.
The systems are available in monochrome or full color, and even we can offer you a grow path.
Our customized solutions
We can offer you a stand-alone printing solution in monochrome or full color, from roll to roll/sheet. An integrated solution – for instance in a web offset press – is also possible.
Print width depends on your specification and can range from a single printhead to 100 inch wide.
Standalone configuration example:
duplex monochrome/full color
roll to roll/sheet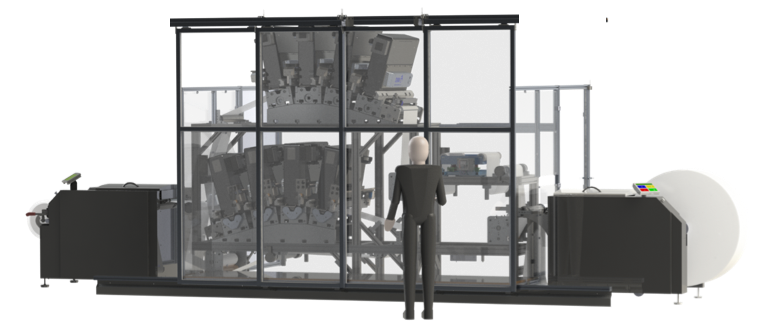 Technical specifications
Inkjet principle: piezo based drop on demand
Printhead technology: Fujifilm Samba or Kyocera KJ4B-1200RC
Printing width: from single printhead to 100 inch wide
Resolution (native): 1.200 dpi
Ink flow: recirculation
Speed: from 100 m/min (@ 1.200 x 1.200) to 250 m/min (@1.200 x 600) depending printhead
Ink: water based dye, pigment
Ink supply system: bulk
Controller: Kameleon
Data format: PDF
Looking for the best fit to complement your digital print jobs?
Inkjet means digital freedom. DJM is sure to provide an inkjet solution to match both your companies and your clients' needs.