Envelope printing
Add value to mailings with targeted messaging on envelopes so that the mailing will appeal to more consumers and convert offers into new business opportunities.
For service providers it is crucial to stand out from the competition, and let their customers benefit from new technologies.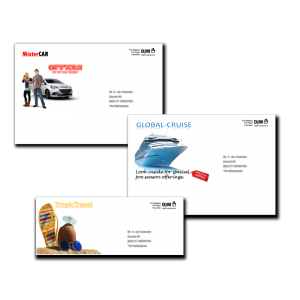 With full-color printing of envelopes, an end customer can add a personal messaging to the envelop. By adding graphics to a usually 'boring' and functional envelop, the mailing gets more impact. And for retail companies, who rely on one-to-one marketing communication the envelope can be used for a personal approach.
Benefits for end customers:
very short time to market; from mailing creation to door-drop in a matter of days;
improved conversation rates; touch people with a personal note or attract attention with images;
Next to serve your customer as best you can, the service provider can benefit from inline envelope printing. By welding small jobs together, this one job can be produced very efficiently, with minimized logistics and related cost.
Benefits for service providers:
stock reduction; using blank envelopes will terminate dedicated stock for specific customers;
uptime maximization; build batches from small jobs and produce efficiently;
optimized envelop logistic; no running around with all sorts of preprinted envelopes.
How does it work?
To connect an inkjet printing system to for instance an inserter, we need to integrate the inkjet printing system. A (vacuum based) conveyor is needed to mount the inkjet printing system on, and will be connected to the exit conveyor of the inserter.
The print process will be under a 'read & print' protocol. A unique ID is read during inserting, then send to the Kameleon software who grabs the matched data from the file and send the print data to the inkjet printing system to print.
DJM has a lot of experience with inkjet integration. Contact us to find out what you can achieve with envelope printing.
Interested in what inline envelope printing can do for your business?
Send us some files and we'll be happy to print some samples and running cost calculations!