Full 'White Paper Factory' at Jetmail (NL) with DJM full color inkjet and Kern 3600 inserter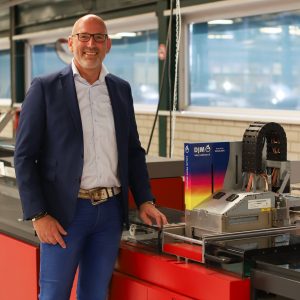 Jetmail – Hillegom, the Netherlands – recently installed a Kern 3600 inserter system. The system is equipped with an integrated cutting system and DJMs HP C500 full color inkjet print module.
DJMs HP C500 is used for printing full color logos from sender combined with address information on blank envelopes, creating a full 'white paper factory' process. With this solution Jetmail can run direct mail and transactional mail efficient, productive and fully controlled.
DJM focuses on photonics-driven inkjet
The drive of DJM has always been to offer its business partners the best possible inkjet printing solution. This desire results in a clear design philosophy and focuses on the development of inkjet related hard- and software.
The challenge with inkjet printing is always to form the ideal drop and position it in the right position. (more…)
Breakthrough Samba technology
After the first introduction of our new Samba Print Module technology in 2017, the Samba Print Module has really penetrated the graphics industry.
After the installation at Ramon Chozas in Argentina, we have delivered many new and exciting projects. These projects embrace a wide variety of applications, from mailing (transaction and direct mail), via tickets (lottery, parking, entrée) to security documents. (more…)