Latest news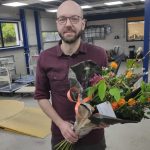 We welcome Jeffrey to the team
Today we are excited to tell you about latest addition to the DJM team, Jeffrey Kooijer a new face in the mechanical engineering department. We will let him introduce himself: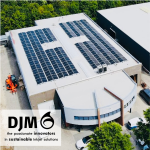 DJM goes solar to reduce carbon footprint
On our journey to make DJM more sustainable, DJM has invested in solar energy. These new solar panels will help DJM reduce their emissions by ensuring that 99 percent of the time our company runs on sustainable energy.
---
Reliable partner for industrial inkjet systems
You want a business partner to be dependable, devoted and qualified. To promise and deliver. At DJM we are all about inkjet. With over 20 years of experience, we drive industrial inkjet technology to its limit. Print Industry leaders worldwide have turned to DJM for inkjet solutions because they value our personal approach and solid engineering. Our goal is to provide you with the best inkjet printing solutions for quality variable data output and increased efficiency.
Your digital dreams personalived
Meet the growing demand for personalized communication in printing through inkjet solutions. Help your clients gain customer loyalty and increase sales. Simply because people are persons, your clients need to engage and connect with the individual. DJM's industrial inkjet hardware and software inkjet solutions for print industry professionals personalive customer needs.
Flexible industrial inkjet printing solutions
A digital printing solution to complement your workflow can never be basic. We invest all our effort, time and funds to develop and deliver the most reliable systems in the market. As a respected partner, we take drop on demand inkjet technology from high tech companies such as HP and Fujifilm Dimatix to the next level. Our modular approach combines these technologies with user-friendly hybrid controlling software, to offer you a great variety of printing solutions and ultimate flexibility.
---
---