>
>
Stefan Belgers - Senior Software Manager at DJM - about the development of Kameleon controller Software
Stefan Belgers - Senior Software Manager at DJM - about the development of Kameleon controller Software
'When the introduction of HP's full color print modules was announced in 2010, we had to consider if the InkMailer controller software, from that time, was suitable for this. InkMailer was already used by many customers worldwide with the IPAS425i inkjet print modules.'
Adjust or redevelop?
'To support full color printing, a 64-bit application was required. This led to the dilemma of adjusting InkMailer from 32 to 64 bits, or to completely start redeveloping.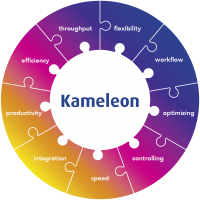 Since DJM also wants to launch other inkjet printing technologies in the future, it did not seem appropriate to adapt the existing program code.
After my research, a completely new platform turned out to be the recommended choice, also considering our plans for the future. A new development platform was selected and the structure of the software was redesigned.'
It must be as simple as my iPhone!
'Dick van der Maal (Founder & CEO of DJM) asked me to give a presentation about my ideas about the new developments. After 30 seconds, Dick said, "Stefan, go ahead." As I walked out of his office, he added: "... but it must be as simple as my iPhone". This was the start of the current Kameleon software platform.' And so Stefan became the Godfather of Kameleon.
Modular construction is very important
'During the development of Kameleon, two aspects were very important; the modular structure of the software and the user-friendliness. The user-friendliness was realized by making as much use of 'icons' (like the iPhone) as possible instead of text, and only displaying the relevant information in the GUI (user interface). This makes it easy to use Kameleon, also for our international customers.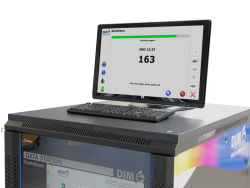 The modular construction of Kameleon has proven itself. Several times the software has been expanded with functionalities, for the benefit of a specific application or the implementation of a new printhead technology. In addition, multiple integrations into existing systems went very smoothly because machine-specific communication modules could be written quickly.'
User-friendliness stimulates implementation process
'An additional advantage of the icon-based structure of Kameleon is that it is very intuitive. The operators are quickly familiar with Kameleon, which means that the implementation process at our customers is very fast. In the first major project where we implemented several inkjet printing systems - which would be controlled by Kameleon - the operators were already printing with Kameleon before the training was given. The feedback we received from our customer was that it was very easy to operate, and they were not used to that.
Naturally, the Kameleon software is continuously developed, because new print modules are introduced, special features have to be added and a customer request is made. Thanks to the modular design of Kameleon we are able to realize all improvements and adjustments in a short time. In short: DJM does not stand still.'
DJM is ready for the future. The Kameleon software too!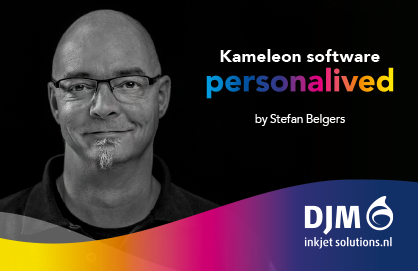 Looking for the best fit to complement your digital print jobs?
Inkjet means digital freedom. DJM is sure to provide an inkjet solution to match both your companies' and your clients' needs.