Ramon Chozas chooses DJM inkjet technology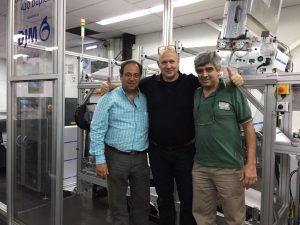 Ramon Chozas S.A. – a leading print service provider in Argentina – has selected DJM's inkjet printing technology to grow its variable data printing applications. To meet the high requirements of transactional and direct mail customers, Ramon Chozas was keen on improving their print capacity and print image quality.
After an extensive orientation phase, Ramon Chozas concluded that DJM was the right business partner.  The combination of inkjet expertise, cutting edge Samba printhead technology  and the flexible software platform Kameleon were decisive attributes for cooperation.
To Ramon Chozas concluded that the complete DJM DreamMachine configuration matched their needs. The base of this configuration is the inkjet tower, developed by DJM, complemented with two Samba Print Modules for monochrome duplex printing. Additional color – spot or full color – is available by integrating additional print modules.
The print modules are based on the Fujifilm Samba printhead technology well-known for a high resolution of 1.200 x 1.200 dpi and high running speed of 114 m/m. The recirculation of ink around the nozzles (RediJet) makes the modules operator friendly, reliable and hassle free.
Because of the high print image quality supplied by Samba technology, the configuration is currently also in use for applications previously printed in laser. For Ramon Chozas the investment has resulted in higher throughput, better image quality and lower costs.
The DreamMachine configuration is equipped with an unwinder, buffer and rotary cutter to maximize print line throughput.