New faces in a growing team
We're excited to announce that the team is expanding so we can grow the business, become more successful, and get things done faster! Here is a brief introduction to some of the latest new faces.
The first is Mark Keppel who has joined the technical department. He used to work in photography and loves to create. The environment at DJM fits right up his alley and hopes to be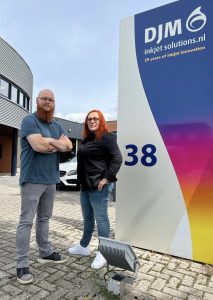 of use to anyone in needs inkjet printing. Mark is following his internal training course and will be soon up to speed.
Second member is Michèle Dantas and has joined the sales and marketing team. She has many years of international customer service experience and is ready for her next adventure. She is passionate about bringing solutions to clients where her multilingual talent will be a great help in growing our international business.
We welcome both Mark and Michele to the team and write new success stories.