DJM launches new corporate identity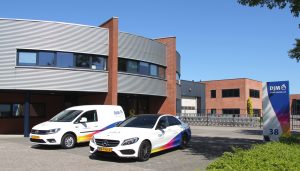 After expanding our product portfolio with new inkjet printing systems it was time to introduce a new corporate identity that fits the new proposition.
This proposition is underlined by the wide choice of new inkjet printing solutions, which in combination with the Kameleon software offer a solution for almost every application.
The new identity stands for powerful, vibrant solutions that are tailor-made – or 'personalived' as we call it – to our customers.
We proudly introduce you our new corporate branding and is applied to the building, website, new company cars, equipment, product data sheets, stationary etc.
The concept for the new corporate identity was created by NoConceptNoGlory from Zwolle and the implementation was done by Textline from Harderwijk. We have experienced the process as very pleasant and we are very pleased with the end result.
For more information, check our completely new website.