Samba 20-inch
Increase your throughput and uptime for more profitability. The Samba inkjet print solution brings your clients personalized offers and variable data concepts to life fast and in very high quality.
Your marketing personalived
The Samba print module is packed with integrated functions. Based on Fuijfilm Dimatix' samba printhead, it combines the benefits of traditional inkjet techniques. Quality printing up to 1,200 dpi, a high throughput and operational flexibility. This new, robust piezo inkjet technology is profoundly reliable. The Samba print module provides unparalleled stability, uniformity, maintainability and scalability.
DJM's R&D team expertly stitches samba printheads to form a tight integrated print bar. Whether you choose full-color or monochrome, print swath can be expanded up to 100 inches. With the Samba print module we offer you stand-alone and integrated piezo inkjet solutions for increased print possibilities.
The latest of inkjet in a single technology

The 20-inch Samba print module is equipped with maximum 12 samba printheads, creating a total printing width of 20.37 inch (~ 517 mm). With a maximum printing speed of 820 ft/min (250 m/min), digital dreams come alive fast. The optimized recirculation of ink around the nozzles reduces nozzle dropout and cleaning maintenance. No specific inkjet knowledge is needed to operate a system equipped with the samba printhead technology. Printhead consumables are redundant and incidental printhead replacement is effortless. The Samba print module is easily integrable in web offset presses or used as standalone. DJM developed an inkjet tower specifically designed for the Samba print modules. The inkjet tower meets monochrome and full color demands and can be connected to pre- and post equipment for an optimized throughput.
Scalability
Samba print module technology gives maximum flexibility to customize. With its unique parallelogram shaped nozzle plate a straight printbar can be formed from a single printhead to a printbar of up to 100-inch.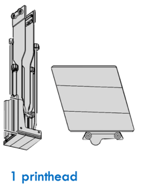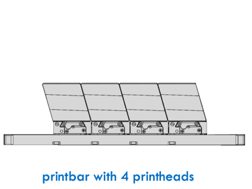 Grow path
The Samba print modules are developed for flexible use. A monochrome system can be upgraded to spot color, full color, or even to 5, 6, 7 or 8 colors for an extended gamut, just by adding additional print modules. This enables customers to grow their business and plan their investment.
Ink flexibility
The piezo based samba technology comes with a wide variety of inks, enabling you to get the best out of your application. The internal ink recirculation guarantees an optimal condition of the ink and ensures fresh ink above the nozzle, always ready to fire.
Benefits and cost saving
The Samba print module technology comes with many benefits and cost savings, like a better up-time, faster set-up time, high print quality, ink flexibility, no refurbishing cost and many more. Read more
A reliable inkjet partner
You want a business partner to be dependable, devoted and qualified. To promise and deliver. At DJM we are all about inkjet. With over 25 years of experience, we drive industrial inkjet technology to its limit. Print Industry leaders worldwide have turned to DJM for inkjet solutions because they value our personal approach and solid engineering. Our goal is to provide you with the best inkjet printing solutions for quality variable data output and increased efficiency. Read our promise here
The 'journey' of a Samba print module
Watch the video below to see how a Samba print module is being designed, build, manufactured, delivered and finally installed at one of our customers.
Looking for the best fit to complement your digital print jobs?
Inkjet means digital freedom. DJM is sure to provide an inkjet solution to match both your companies and your client's needs.